Pécs Writers Program ::
Laslo Blašković (Serbia), 2013 August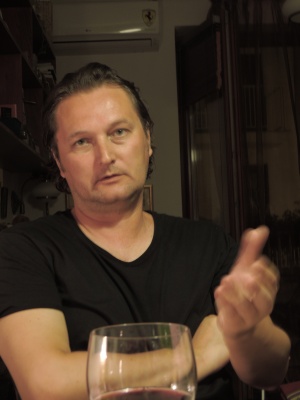 Laslo Blaskovic graduated at the Philosophic University in Novi Sad, the department for Yugoslav literature; where he has been selected for the assistant for the scientific-research about the Cultural history of the 19th century. He was the main editor of the literary journal Polja (Fields), from the year 2000 to 2007. He is also a member of the Editorial Board for the First Book Edition of Matica Srpska and the main publishing editor at Srpsko narodno
pozoriste (The Serbian National Theater) in Novi Sad. He was the director and the main editor of the Cultural centre of Novi Sad. He has been the member of The Serbian PEN Center since 2004 and the member of the board of The Serbian PEN Center since 2006. He is also one of the founders of The Serbian Association for literature and has been a member since 2001. He is also a member of the Managing Board in many important Funds for literature in Serbia. He published 7 books of poetry,7 novels, a book of stories and an essay book. The texts of Laslo Blašković have been translated into Hungarian, Romanian, Bulgarian, Slovakian, Slovenian, Ukrainian, Macedonian, Polish, German, French and the English language. In the year of 2008, as a part of the international project Sto slovenskih romana, Madonin nakit, written by Blašković, was among the 10 best Serbian novels since the fall of the Berlin wall and it will be translated into all Slavic languages.
He is the proud winner of many prestigious awards for literary achievements: Pečat varoši sremskokarlovačke (For the best book of poetry written by younger authors, 1988.), Matićev šal (for the best book of poetry writen in serbo-croatian in the year of 1989.), The book of the year by the Association of writers from Vojvodina (for the best novel in Vojvodina, 1997.), The award of the Serbian Academy of Science and Art from the "Branko Ćopić foundation (for the best Serbian novel in the year 2005.), the Stevan Sremac award (for the best book of stories/novel in the 2007) and the literary scholarship of the "Borislav Pekić" Foundation. (for the project of the novel Madonin nakit, 2001.). He was a part of many writers in residence programs and participated in many International meetings, conferences and festivals for writers. They are as follows: Hungary, Pécs August, 2013. Artists in residence; USA, Washington, New York, Minneapolis, Honolulu August 22 - September 9, 2011. United State Department of State, International Visitor Leadership Program; Germany, Langenbroich, July - September 2010. The Heinrich Bell Foundation, Artists in Residence; Austria, Vienna, March 2008. Kulturkontakt Austria, Artists in Residence. Readings and Conferences of the International PEN Association and Book Fairs (Leipzig, Vienna, Ljubljana, Sofia, Bled, Ohrid, Cairo...) He is married and has two children.
---