Pécs Writers Program ::
Eda Kriseová (Czech Rep.), 2011. October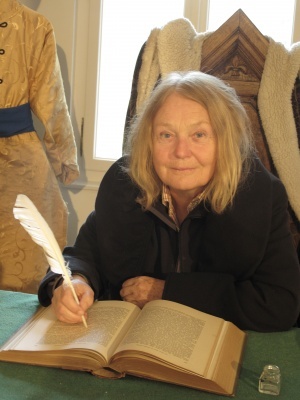 Eda Kriseová was born in Prague in the family of an architect and a sculpturess. She studied journalism at Charles University Prague and after graduation worked as a reporter mainly during Prague´s Spring in 1968. She has travelled extensively and has worked as a voluntary worker for the American Quakers and Service Civil International on projects for the developing countries, she has also worked in a kibbutz in Israel. After the Soviet Invasion and occupation of Czechoslovakia the paper for which she was working was abolished and the staff was dismissed. From that time Eda Kriseova`s text were banned from the newspapers and magazines, in addition she was also not allowed to publish any of the books that she had begun to write.
In 1969 Eda Kriseová lost her job and found herself without any financial means since her husband was studying and they had a small child. From 1970 she changed her job several times. This same year she began visiting a mental hospital in the small village where she went for her vacations. She needed to meat and help people, who at that time, were even more unhappy than herself. This was a hospital in an old monastery for the chronically sick, mainly schizophrenics. These people helped her much more then she helped them. The normalisation process that was going on at the time an the former Czechoslovakia was particularly painful for Eda Kriseová´s generation. The career of her peers was destroyed and they were unable to pursue their vocations for many years. She belonged to Prague´s group of disidents, intellectuals in opposition, she participated in different activities such as publishing the underground literary revue, samizdat etc. She worked in Public Forum during the "Velvet" Revolution and became a speaker for Václav Havel. Then, when Havel was elected president, she worked in his office as his advisor, later as assistant.
After two and half years Eda Kriseová resigned her job and returned to her writings. She lives in Prague in the Czech Republic and works as free – lance writer. Her books are now being published, not only abroad, but even in her own country. She has written nine novels and collections of short stories, two books for childern and one non fiction book – the biography of the Czech President Václav Havel. This book was translated into seven other languages. Many of her short stories have been published in different American anthologies and literary revues. Her books are published mainly in German speaking countries and in Holland.
Eda Kriseová has taught creative writing as a visiting writer at the Geotge Washington University in Washington. She has also given and gave the lectures and readings at many universities in the USA. On few occasions, she obtained a grant and a fellowship for writing in Germany from German Ministry of Culture and Literarishes Colloquium Berlin,also in Switzerland and Latvia. She frequently reads from her books in Germany and in Austria. She was for many years a member of the Board of Trustees of Central and Eastern European Book Project foundation in Amsterdam and Václav´s Havel Library in Prague.

---